Data Center Technologies
BlackStor – Software-defined storage
Software-defined storage for virtualization and cloud
BlackStor is the world's fastest & most reliable cloud-native software defined storage. It is also the world's first fully cloud-aware, policy-driven software-defined storage solution on the market.
BlackStor has been designed to meet the highest stability and reliability demands and provide extreme, predictable "performance under pressure" with unlimited scaling, deep insight and analytics, and many other unique features, such as deduplication, multi-tenancy, and advanced security.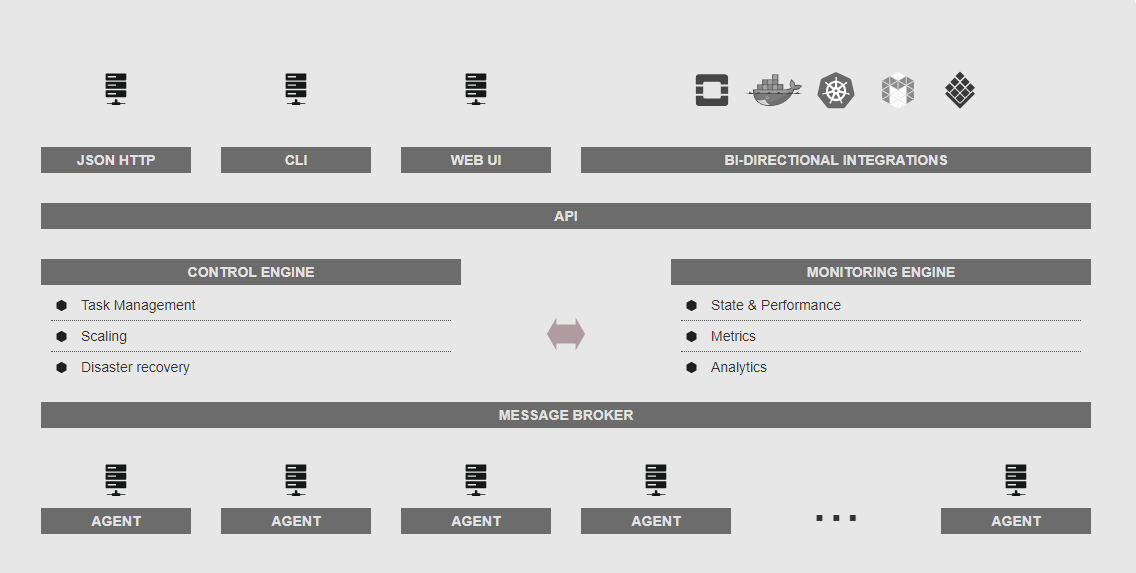 ---
Key Benefits
First cloud-aware storage solution
Integrated with OpenStack, Kubernetes, Docker and other clouds
Unique policy-driven feature set
Deep insight, analytics & monitoring
End-to-end data protection
Next-gen security features
Unlimited scaling
"Always On" architecture
No downtime planning
Lower TCO
Integrated backup & restore
24/7 support and tight SLAs
Software-Defined Storage
Software-defined infrastructure is driven by the IT industry's need for scalability, infrastructure cost reduction, time-to-market, and lowered maintenance impact. By combining a software-defined architecture, high-performance system design with hardware flexibility, BlackStor gives you a flexible yet rock-solid storage system with extreme on-the-job delivery and a superior price:performance ratio as compared to other available storage alternatives.
Cloud-Aware
BlackStor is the first cloud-aware storage solution on the market. It enables its users to seamlessly integrate storage with cloud infrastructure while providing key enabling features. BlackStor is not just a backend: it fully understands your cloud infrastructure by using bi-directional connectors, giving you the ability to control storage policies according to your logical infrastructure needs.
---
Performance
BlackStor provides unbeatable performance by leveraging the latest underlying technologies and effective in-kernel data path. Compared to Ceph, its largest competitor in the OpenStack domain, BlackStor offers more than 20 times higher combined performance & effectiveness while simplifying storage operations and administration without impacting reliability.
Components of this product gained support from Eurostars funding under project name DRBD4CLOUD – Extending DRBD for Large Scale Cloud Deployments.
The goal of this project is to integrate the high-reliability storage solution DRBD, the de-facto standard for distributed replicated block devices, which is also part of the standard Linux kernel, into cloud platforms such as OpenStack or Kybernetes, thereby addressing network and computational performance as well as scalability in large cloud installations.
The extensions will allow DRBD to reach out to new markets by cutting storage overheads by 50-80% while guaranteeing practically equivalent levels of redundancy. Furthermore, adopting erasure coding and secret sharing technologies also researched in Archistar will allow confidential data to be securely stored on semi-trusted cloud providers. Simplifying the deployment, enabling monitoring, as well as integrating DRBD into cloud platforms, will allow cloud providers to pick up the technology.
The results of DRBD4Cloud will be delivered as software implementations which, similar to DRBD, will (mostly) be published under an open source licence.
Facts:
Project start: October 2018
Project duration: 24 months
Project costs: approximately EUR 1.2 million
Funding: Funded through national funding organizations with approximately EUR 675,000
Coordination: LINBIT HA-Solutions GmbH
Partners: AIT Austrian Institute of Technology GmbH (Austria), LINBIT HA-Solutions GmbH (Austria)
Contact Us

PRO-ZETA a.s.

Address

Tiskařská 257/10

Praha 10, 108 00

Czech Republic

TIN

15891585

VAT

CZ15891585

DPO

Pověřenec pro ochranu osobních údajů

Ing. Olga Kalabisová
3S Consulting s.r.o.
Mail: o.kalabisova@3s-consulting.cz

Bank connection - CZK

Beneficiary name

PRO-ZETA a.s.

Bank

Československá Obchodní banka a.s.

Radlická 333/150, Praha 5

Account name

183670014/0300

IBAN

CZ4103000000000183670014

SWIFT

CEKOCZPP

Bank connection - USD

Beneficiary name

PRO-ZETA a.s.

Bank

Československá Obchodní banka a.s.

Radlická 333/150, Praha 5

Account name

235784348/0300

IBAN

CZ6703000000000235784348

SWIFT

CEKOCZPP

Bank connection - EUR

Beneficiary name

PRO-ZETA a.s.

Bank

Československá Obchodní banka a.s.

Radlická 333/150, Praha 5

Account name

277623198/0300

IBAN

CZ2203000000000277623198

SWIFT

CEKOCZPP