Data Center Technologies
Networking – Arista Networks
Why choose Arista?
Technology leader in data center networking
Extremely stable software and hardware with the lowest error rate on the market
Direct access to Arista certified L3 support
Sophisticated monitoring for real-time visibility of all network events
Configuration and management of the whole network from a single place
About Prozeta
Prozeta is a distributor of Arista Networks for the Czech Republic and the Slovak Republic and 27 countries in Central and Eastern Europe and Asia.
Prozeta provides a wide range of services, including pre-sales and after-sales support, professional services (design, analysis, delivery, installation, integration), and managed services.
---
Want to know more about Arista solution?
Download our latest case study on how we helped our client.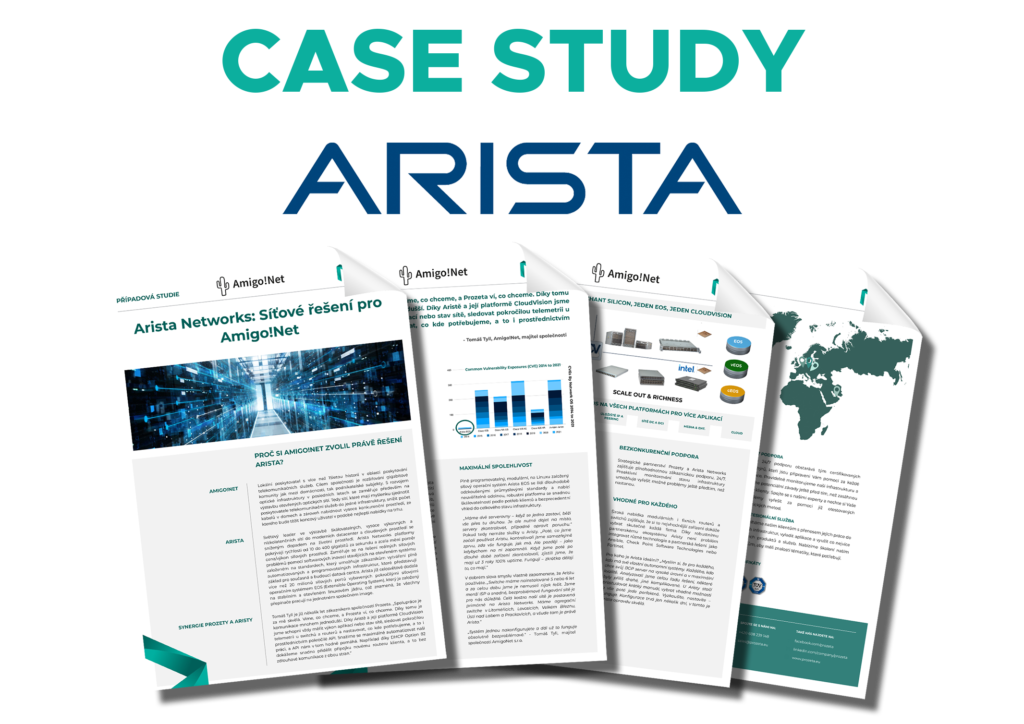 Contact Us

PRO-ZETA a.s.

Address

Tiskařská 257/10

Praha 10, 108 00

Czech Republic

TIN

15891585

VAT

CZ15891585

DPO

Pověřenec pro ochranu osobních údajů

Ing. Olga Kalabisová
3S Consulting s.r.o.
Mail: o.kalabisova@3s-consulting.cz

Bank connection - CZK

Beneficiary name

PRO-ZETA a.s.

Bank

Československá Obchodní banka a.s.

Radlická 333/150, Praha 5

Account name

183670014/0300

IBAN

CZ4103000000000183670014

SWIFT

CEKOCZPP

Bank connection - USD

Beneficiary name

PRO-ZETA a.s.

Bank

Československá Obchodní banka a.s.

Radlická 333/150, Praha 5

Account name

235784348/0300

IBAN

CZ6703000000000235784348

SWIFT

CEKOCZPP

Bank connection - EUR

Beneficiary name

PRO-ZETA a.s.

Bank

Československá Obchodní banka a.s.

Radlická 333/150, Praha 5

Account name

277623198/0300

IBAN

CZ2203000000000277623198

SWIFT

CEKOCZPP