Data Center Technologies
Networking – Arista Networks – Enterprise
Enterprise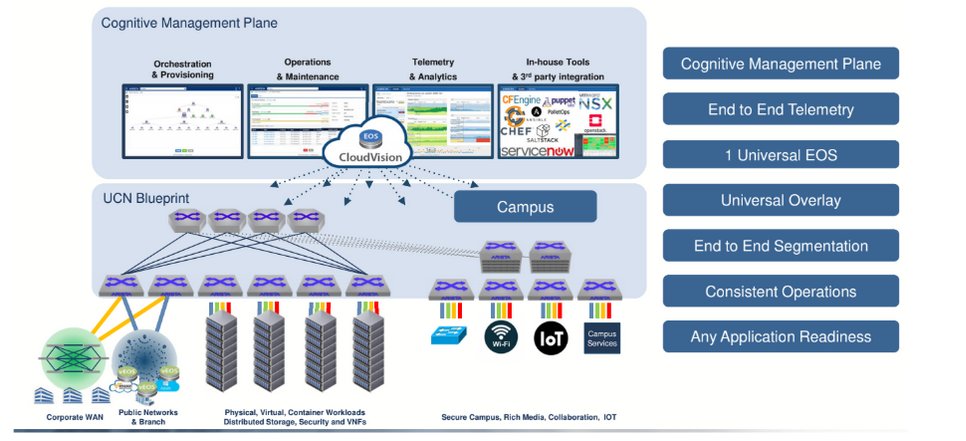 Universal Cloud Network – Offered as an alternative to brittle proprietary solutions from legacy vendors, Arista UCN is an open standards-based design focusing on software-driven control principles. Arista's collapsed Spline™ architecture, utilizing its spine, POE leaf switches, and Wi-Fi platforms, consolidates campus layers into simpler topologies that reduce costs and improve reliability.
Cognitive Management Plane – There is a dire void in management-plane consistency and a need for data-driven analytics in campuses, just as there is in data centers. Arista believes that a common model can be applied across both, thus reducing operational costs for customers. The Cognitive Management Plane, based on Arista CloudVision, is a data-driven repository for making automated actions across network analytics. Cognitive management applies artificial intelligence to identify the root cause of faults and to monitor the user experience.
Securing The Campus – The Securing the Campus spline takes a holistic approach to network segmentation, device compliance, and auditing, as well as service integration with Arista's security partners. Arista delivers these capabilities through EOS and CloudVision. Arista's campus leaf switches provide unsampled flow analytics to CloudVision and third-party consumers of IPFIX. CloudVision provides a graphical representation of who is talking to whom and other flow information to simplify the visualization of campus workloads.
Switches
Software
---
Contact us if you are interested in Arista technologies or visit Arista Networks.
Contact Us

PRO-ZETA a.s.

Address

Tiskařská 257/10

Praha 10, 108 00

Czech Republic

TIN

15891585

VAT

CZ15891585

DPO

Pověřenec pro ochranu osobních údajů

Ing. Olga Kalabisová
3S Consulting s.r.o.
Mail: o.kalabisova@3s-consulting.cz

Bank connection - CZK

Beneficiary name

PRO-ZETA a.s.

Bank

Československá Obchodní banka a.s.

Radlická 333/150, Praha 5

Account name

183670014/0300

IBAN

CZ4103000000000183670014

SWIFT

CEKOCZPP

Bank connection - USD

Beneficiary name

PRO-ZETA a.s.

Bank

Československá Obchodní banka a.s.

Radlická 333/150, Praha 5

Account name

235784348/0300

IBAN

CZ6703000000000235784348

SWIFT

CEKOCZPP

Bank connection - EUR

Beneficiary name

PRO-ZETA a.s.

Bank

Československá Obchodní banka a.s.

Radlická 333/150, Praha 5

Account name

277623198/0300

IBAN

CZ2203000000000277623198

SWIFT

CEKOCZPP