Prozeta exhibited at it-sa Expo&Congress (October 25 -27), Europe's largest IT security trade fair in Nuremberg at the NürnbergMesse. We presented Blindspot – protection against a wide range of DDoS (Distributed Denial of Service) attacks. 
This was Prozeta's biggest marketing project of the year, in which Prozeta wanted to show itself at its best. At the booth, where you were served coffee and other refreshments, you could not only talk to our security consultants about our product Blindspot, but also walk through a virtual gallery, where you could saturate yourself with art creations in a time loop from the 15th to the 20th century from the State Art Collections in Dresden. Over 60 paintings were transported directly from the Saxon capital to you in Nuremberg. In addition, you could create your own artwork with the help of our artificial intelligence program.
The stand construction phase
Early on Monday morning, the sales, technical and marketing team and the management of Prozeta travelled to Nuremberg, Germany. Together with Xlab, we finished preparing our stand and planned the program for the next three days of the fair.
The expo
The next three days were already marked by the trade fair. It-sa has hosted around 15,000 visitors in previous years and this year was no different. Lots of you came to our booth to learn not only about the Blindspot product but also to see the virtual gallery itself. All three exhibition halls were packed with visitors wanting to learn the latest from the world of cyber security and we were there to help them as much as possible in this regard.
Special thanks to
On behalf of the company, we would like to thank our partners who helped us to be part of this important event. Namely, Intel Corporation, who was a sponsor for the virtual gallery. SKD (Staatliche Kunstsammlungen Dresden) provided these beautiful works of art. Radware that powers Blindspot. 2FRESH and Buldok Marketing helped us not only with the visual side but also with digital promotion. Xlab helped us create the booth itself.
And last but not least to you, the visitors of our stand and the fair itself.
So thank you all once again and we look forward to next year.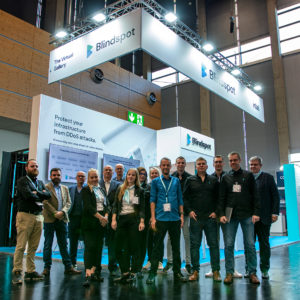 Czech:
Prozeta vystavovala na největším evropském veletrhu IT bezpečnosti it-sa Expo&Congress v Norimberku, kde představila Blindspot, který poskytuje ochranu proti široké škále útoků typu DDoS (Distributed Denial of Service). Podívat jste se na náš stánek mohli od 25. do  27. října na výstavišti NürnbergMesse. 
Jednalo se o největší marketingový projekt společnosti Prozeta tohoto roku, ve kterém se Prozeta chtěla ukázat v tom nejlepším světě. Na stánku, kde jste si s námi dali kávu a občerstvení, jste si s námi mohli popovídat nejen o našem produktu Blindspot, ale také se projít virtuální galerií, kde jste se nasytili uměleckými výtvory v časové smyčce od 15. do 20. století ze Státních uměleckých sbírek v Drážďanech (SKD). Přes 60 obrazů se virtuálně přeneslo ze saské metropole přímo za vámi do Norimberka. Krom toho jste si mohli vytvořit vlastní umělecké dílo za pomoci našeho programu pracující s umělou intelingencí.
Fáze stavění stánku
V pondělí brzkého rána odcestoval obchodní, technický a marketingový tým spolu s vedením společnosti Prozeta do německého Norimberku. Zde jsme společně se společností Xlab zakončili stavbu stánku a připravili program na následující tři dny veletrhu.
Veletrh
Další tři dny pokračovaly již ve znamení veletrhu. It-sa hostila v předchozích letech okolo 15 000 návštěvníků a letos tomu nebylo jinak. Spousty z vás přišlo za námi na stánek, aby se dozvědělo nejen o produktu Blindspot, ale také se podívat na samotnou virtuální galerii. Všechny tři veletržní haly byly plné návštěvníků, kteří se chtěli dozvědět to nejnovější ze světa kybernetické bezpečnosti a my jim byli co nejvíce v tomto ohledu nápomocni.
Poděkování
Prozeta chce tímto poděkovat našim partnerům, kteří nám pomohli stát se součástí této významné události. Jmenovitě společnosti Intel Corporation, která byla sponzorem virtuální galerie. SKD (Staatliche Kunstsammlungen Dresden), se kterými jsme mohli vystavovat tato nádherná umělecká díla. Radware, který pohání náš produkt. 2FRESH a Buldok Marketing, kteří nám pomohli nejen s vizuální stránkou, ale i se stránkou digitální propagace. Společnosti Xlab, která nám pomohla vytvořit samotný stánek.
A v neposlední řadě právě vám, návštěvníkům našeho stánku a veletrhu samotného.
Ještě jednou tedy děkujeme všem a těšíme se příští rok.